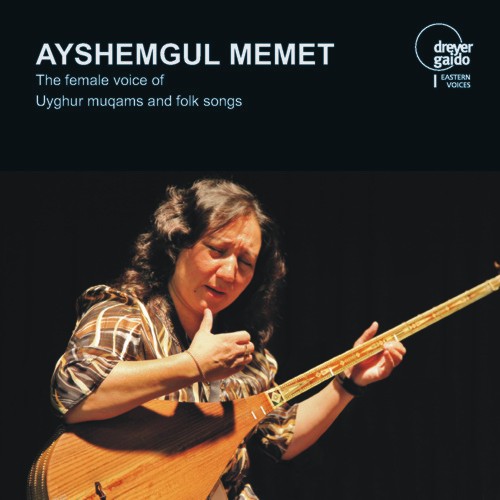 Ayshemgul Memet
The female voice of Uyghur muqam and folk songs
Ayshemgul Memet, vocals
Shohrat Tursun, tambur
Ilyar Ayup, percussion
catalog number 21067

Being one of the oldest cultures of Central Asia, Uyghur music has its special place among the Turkic nations of the mysterious Silk Road. Muqams, folksongs, religious songs are transmitted orally from generation to generation and have influenced (as well having been influenced by) different cultures around the area.
The Uyghurs are a Turkic ethnic group who live in North-Western China, in the region of Xinjiang which means 'New Territory' in Chinese. The Uyghurs are Muslims (Sunnites) but Shamanism, Buddhism and Manichaeism has had a marked influence on their culture. Belonging to Central Asia (although always forgotten to be mentioned as a part of Central Asia), Uyghurs share similar linguistic and cultural heritages with other Turkic nations such as Uzbeks, Kazakh and Kyrgyz.

Xinjiang is a mountainous and barren area with oases full of life. The old Silk Road attracted thousands of adventurers and tradesmen. Many traditional songs have swayed along the endless sandy tracks on journeys.
Music is an important part of Uyghur culture and Uyghur identity. From very early times Uyghur music has been mentioned in Chinese historical sources as a highly developed art. Uyghur music from the far west was considered by Chinese royal ensembles to be the most inspiring. Some musical instruments even traveled to the Tang dynasty and have been adopted in Chinese music. After its islamization, Uyghur music adopted the great tradition of Muqam (Maqâm, Mugham) and created a powerful musical heritage.

"I was 13 years old when I heard a Muqam for the first time. It was a short fragment from muqam Panjigah. The beauty of this music magnetized me. I knew that muqam was my destiny." Ayshemgul Memet